Want to be the first to know when this course opens for enrollment? Click here to subscribe.
"You use a glass mirror to see your face; you use works of art to see your soul."
~ George Bernard Shaw
Are you ready to see your soul?


Ever wonder how to make cool mixed-media faces?
What are the materials artists use?
What can I use?
How do I make the features?
Is it okay to use.....? (hint: YES!)
Join me as I share my favorite tips, tools, and materials - including 'found words' - for making mixed-media faces in this mini workshop designed for beginning & "newer" artists/creative explorers.


This course is offered in two formats:
On-Demand, Self-Paced Workshop
On Your Own, this is an online course you complete at your own pace & on your own schedule with recorded materials.
Live Workshop
The live session is hosted via Zoom
Note:
Workshops via Zoom are for Grownup Gals 18 & over. Grownup guys, we won't discriminate if you'd like to join us. :)
Mom & Daughter and Tween/Teen Gals (11-17 only) workshops may be offered throughout the year. Watch for workshop announcements. I don't offer workshops for children under 11, but you'll find lots of creative classes for kiddos on Outschool.com.
Which format is right for you?
The On-demand, self-paced workshop is for you if:
You want to add to what you already know in mixed-media and want to see what tips and techniques another artist shares.
You prefer to learn on your own by watching videos and following simple directions.
You are an adult or a teen/tween. Since this is not a live course, there is no interaction with others and is suitable for kiddos 11 or older (with parental assistance, if needed).
The Live Workshop is for you if:
You're a beginner or new(er) artist/creative and would appreciate the community support.
You've been doing mixed media for a while, but prefer to learn in an interactive format.
You are a "grownup gal" (or guy) who wants to learn how to make simple mixed-media faces as you add materials, techniques, and tools to your own 'creative toolbox.'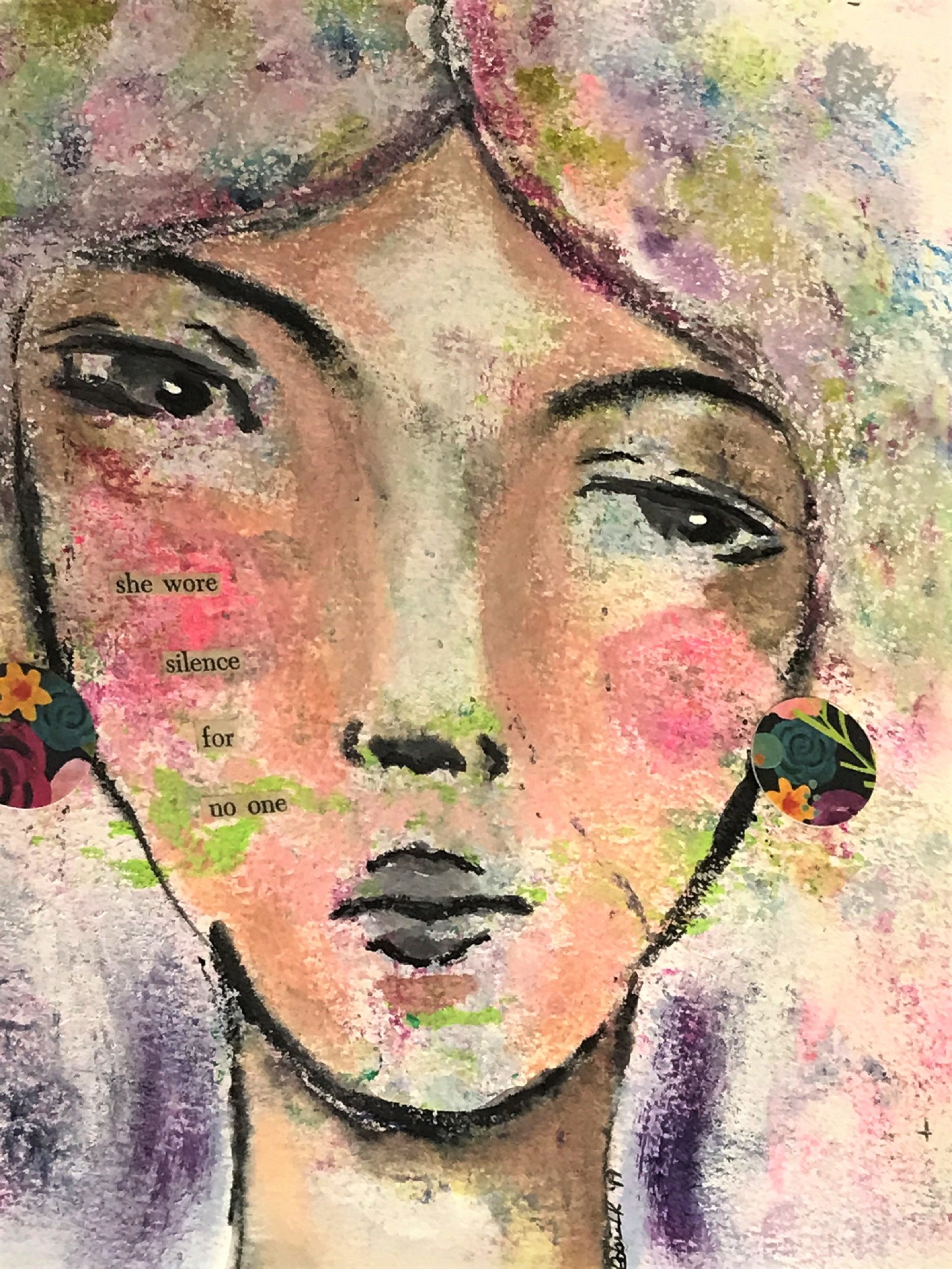 Course Curriculum
Available in days

days after you enroll

Let's Get Started!
What's Included
Downloadable step-by-step instructions & easy-to-follow video clips
Downloadable lists: supplies, tools, & materials
Access to materials/content when the course opens and as long as the course exists
Bonus materials
A self-paced learning experience if you choose that format
An interactive, creative learning community experience if you select the live workshop format
Creative messiness?
Purposeful thinking?
Supportive community?
Yes. Yes. Yessss!
My mission in this world is a simple one: Provide time and space for gals (and guys) to explore, discover, and grow.... through play with words + colors.
Ready?  
I can't wait to meet you! :)
Frequently Asked Questions
When does the workshop start and finish?
For live sessions, the workshop starts & ends on the published date(s).
For self-paced sessions, the workshop starts and ends at your own pace. 
How long do I have access to the course/workshop and its content?
Forever! As long as the course exists, you can access its materials and content.
Do you offer refunds or guarantees?
Absolutely! I believe you'll love the mini learning experiences loaded with not-so-mini fun, inspiration, and information, but if you show me that you've done the work, implemented the techniques, and feel you haven't gotten your money's worth, e-mail me within 30 days of purchase for a full refund.